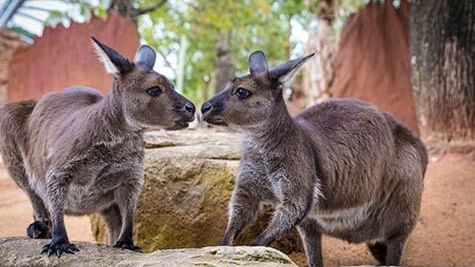 Discover the best of Australia at Wild Life Sydney Zoo – the home of the Aussie big five!
Step into an animal adventure and meet your favourite iconic Australian animals – meet cute Koalas in Gum Tree Valley or have your photo taken with them at Koala Encounters. Head to Wallaby Cliffs to interact with Ringo the wombat and then hop to Kangaroo Walk-About to walk amongst the Kangaroos. The Platypus Pools are where you'll find Jackie & Zoey, our resident platypus pals, before entering the daring world of Kakadu Gorge where you'll come eye to eye with a huge Saltwater Crocodile, and much more!
WILD LIFE Sydney Zoo features interactive displays, inspiring and entertaining daily keeper talks, and enhanced walk-through habitats including Koala Encounters, The Outback and Butterfly Tropics. With a huge range of unique and legendary Australian animals, WILD LIFE Sydney Zoo is a great Australian animal adventure. Located in the heart of the city, at Aquarium Wharf, Darling Harbour, WILD LIFE Sydney Zoo is open daily from 10am, and the last admission is at 4pm.
Book online and save at wildlifesydney.com.au.